Hong Kong, 2nd June 2023, ZEX PR WIRE, Opside's groundbreaking incentive testnet has been active for a week, showing remarkable results with an impressive 29,000+ individual users participating and a whopping 923,000 transactions successfully executed. The testnet was launched on the 24th of May and since its inception, it has exhibited steadfast performance. The broad range of participation from various actors, including ordinary users, PoS validators, PoW miners, project partners, and developers, testifies to the project's extensive reach and the burgeoning interest in Opside.
Delving into the data, the engagement in just the first week was phenomenal. The Opside Pre-alpha incentive testnet saw an influx of more than 29,000 distinct wallet addresses. This level of participation was accompanied by an enormous number of transfers, exceeding half a million, alongside a flood of over 30,000 node whitelist applications. Additionally, over 1,340 nodes have been successfully deployed and are in operation. In an exciting development, Opside PoW CPU mining will be introduced to the testnet this week, a move preceded by a remarkable 2,300+ PoW whitelist applications. Notably, both Ingonyama and Bitmain, leading entities in the sector, have confirmed their participation.
Further extending its offerings, Opside is also poised to launch the Public ZKEVM chain within this week, a strategic move designed to facilitate all developers and project parties by supporting the deployment of EVM-compatible projects. In synchrony with these developments, over 25 top-tier projects, which have already pledged their commitment to join, will soon be integrated into the Opside ecosystem network.
Opside Loyalty Points
Opside has rolled out a customer loyalty points program in partnership with the Galxe platform, and it has already drawn the participation of almost 29,000+ users. Mirroring the strategy of many successful projects such as Arbitrum, Opside Pre-alpha incentive testnet was also debuted on the Galxe platform. Currently, the event is displayed prominently on the homepage of the Galxe official website, inviting all users to participate and experiment with its robust capabilities, including cross-chain transactions, transfers, DAPP interactions, and more. Thus far, the testnet has managed to entice 29,000+ users to participate successfully. Looking forward, Opside has plans to partner with numerous high-profile project teams to unveil a multitude of exciting and engaging task activities.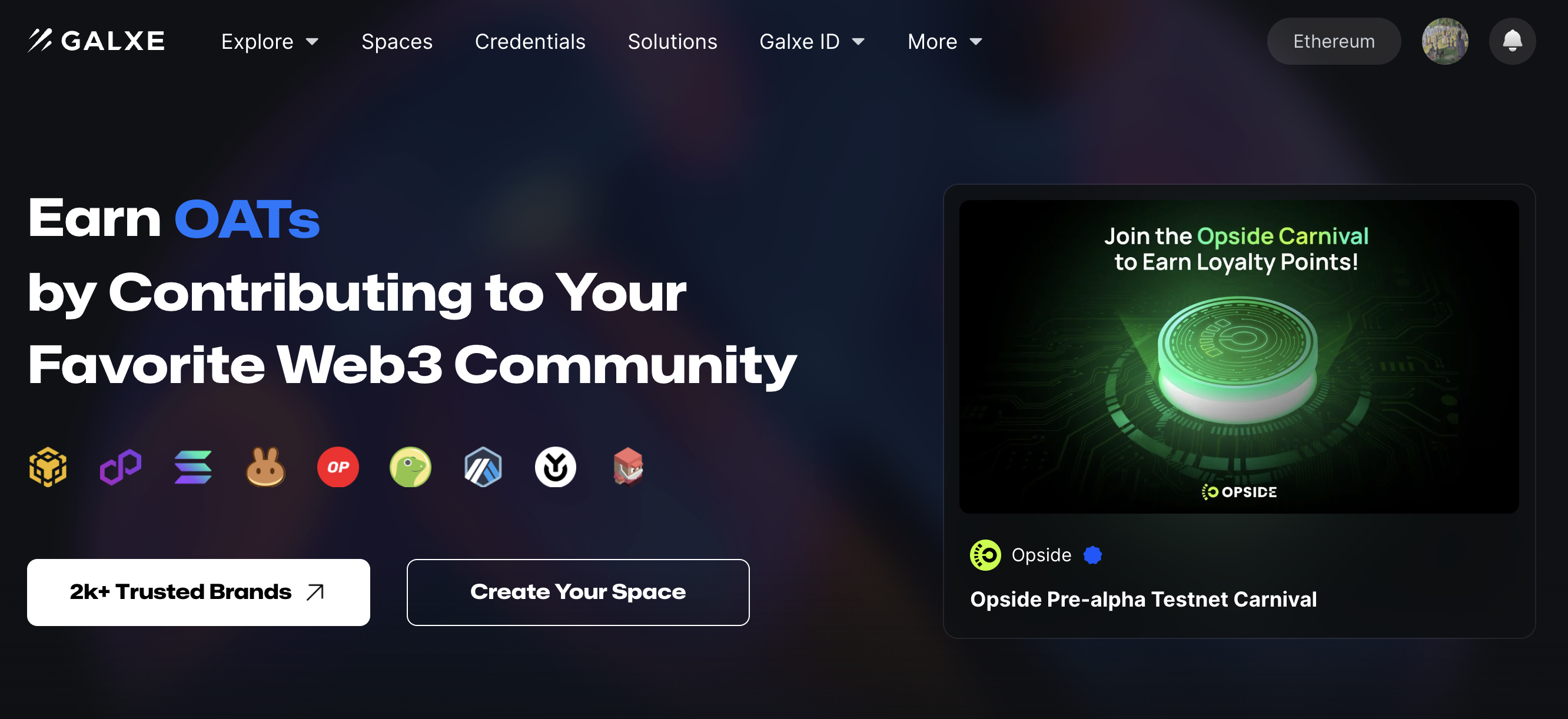 PoS
A significant update from Opside is the commencement of the second round of PoS Validator whitelist applications, heralding the participation of an estimated 10,000 nodes to collaborate in maintaining the network. Earlier on May 2nd, Opside officially initiated the Validator pre-application event which drew in an overwhelming number of over 20,000 whitelist applications from more than 60 countries. As of now, a remarkable number of 1,340 PoS nodes have been successfully deployed and are operating with remarkable stability. In light of the community's overwhelming enthusiasm for PoS node applications, Opside swiftly opened the second round of PoS Validator whitelist applications on May 26th.

How to Become a Validator:Video Tutorial 
PoW
On the mining front, Opside is soon to roll out PoW mining, with key industry players Ingonyama and Bitmain confirming their participation. Opside has adopted a unique blend of PoS and PoW consensus mechanisms, inviting the participation of validators and aiming to engage all miner groups. In this framework, miners can join the Opside network at any time, providing computational power for transactions on ZK-Rollup and thereby generating ZKP (Zero-Knowledge Proof).
Opside Public ZKEVM & Ecosystem Building
The one-click generation of ZKRollup is a significant technical innovation by Opside, enabling project parties to generate their own ZKRollup chain via the ZKRollup launchpad on the Opside official website. This feature streamlines the process by facilitating one-click deployment of smart contracts, and the generation of bridges and browsers, among other services. During the Pre-alpha testnet period, developers or project parties are able to generate a full suite of supporting facilities like the ZKRollup chain, bridges, and browsers in an astonishingly short time frame of about 10 minutes. Opside is continuously striving to optimize this process, with the ambitious goal of further reducing this time to just five minutes in the future.
As of now, Opside has forged successful collaborations with more than 25 high-quality ecosystem projects, many of which are active in the deployment phase. This implies that users will soon have a myriad of opportunities to interact with an array of DAPPs within the ecosystem. It's important to note that Opside Pre-alpha testnet's rapid growth and wide acceptance are a testament to its user-friendly features and robust performance.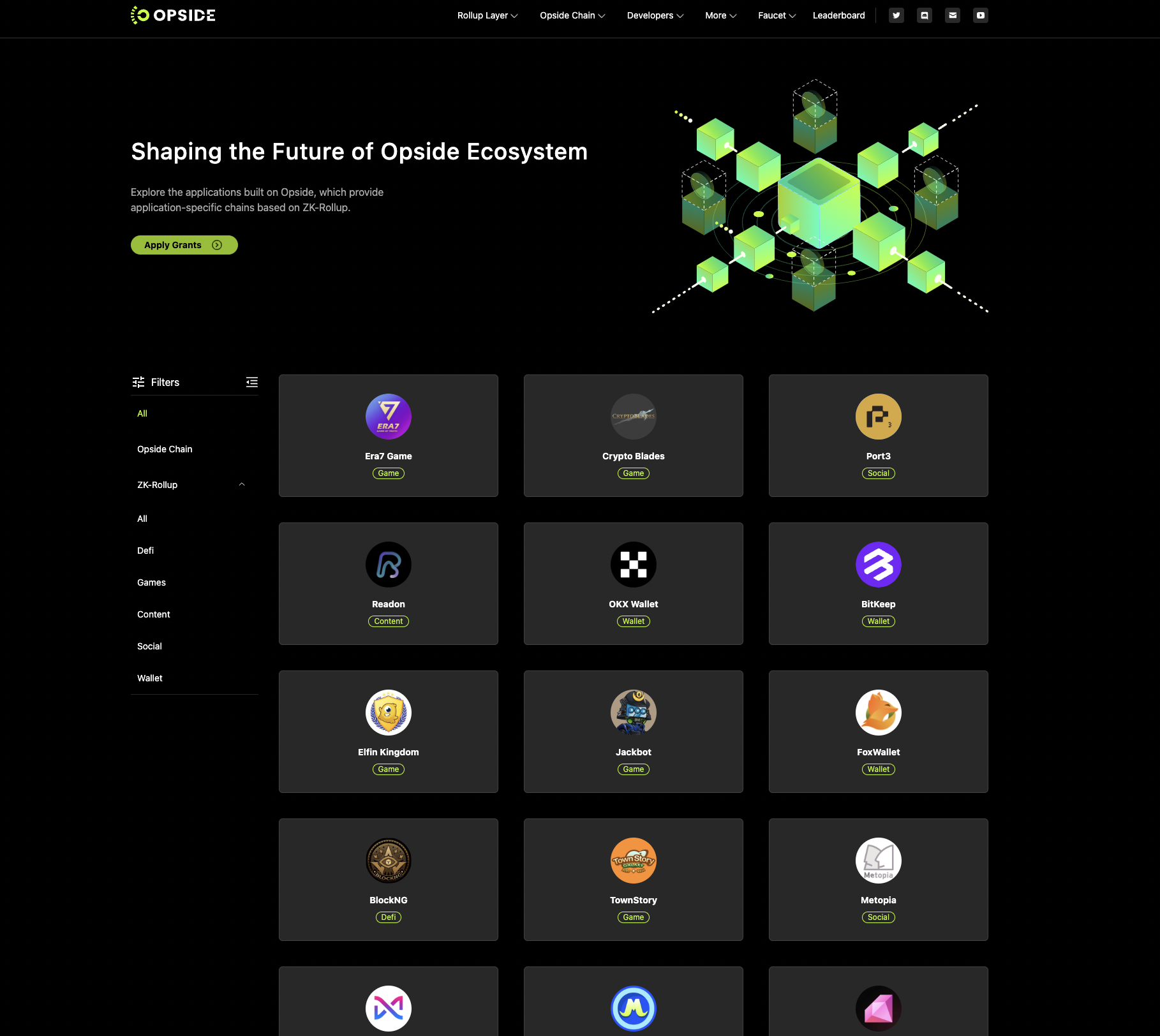 The Opside ecosystem is not only expanding rapidly but also fostering an environment conducive to developers and project teams. As an EVM-compatible network, it allows projects developed in the Solidity language to be deployed quickly on the Opside network with zero-cost migration. This feature has sparked interest among many project teams, leading them to proactively reach out with a desire to become part of the Opside ecosystem.
To encourage such participation, Opside has launched a Grants program, wherein all projects can participate. Once approved and successfully deployed, these projects will receive loyalty point rewards. Simultaneously, Opside also intends to conduct regular ecosystem project evaluations to extend financial and market support for project teams that are actively participating in the Opside ecosystem.
In conclusion, the first week of the Opside Pre-alpha incentive testnet was a resounding success, marked by a robust user response and a significant number of transactions. With its ambitious roadmap, and its commitment to continual optimization and innovation, Opside is set to drive forward the evolution of the decentralized ecosystem. It's an exciting time for developers, project teams, and users alike to be a part of Opside's journey and contribute to its expanding landscape.
For additional information and business inquiries, please contact: https://opside.network/
Disclaimer: The views, suggestions, and opinions expressed here are the sole responsibility of the experts. No  journalist was involved in the writing and production of this article.